Early childhood education is a crucial part of a child's development, and introducing STEAM (Science, Technology, Engineering, Arts, and Mathematics) into the curriculum can help foster a deeper understanding of the world.
At Sampoerna Academy, we recognize the importance of STEAM in early childhood education and are committed to providing students with opportunities to explore and grow through STEAM-based activities. In this blog post, we will discuss why STEAM is important for early childhood education.
What is STEAM?
STEAM stands for Science, Technology, Engineering, Arts, and Mathematics. It is a holistic approach to learning which emphasizes the connection between these five disciplines. This approach encourages students to explore their interests through hands-on activities that involve problem-solving and creative thinking.
STEAM promotes an interdisciplinary approach to learning by introducing concepts from different fields and showing how they are interconnected. This allows students to make connections between different subjects and develop a deeper understanding of how they relate to one another. STEAM also encourages students to think outside the box and be creative in their problem solving.
By emphasizing this hands-on approach to learning, STEAM enables students to develop a variety of skills such as critical thinking, communication, collaboration, and self-directed learning. These skills will help them succeed in whatever career path they choose to pursue.
The introduction of STEAM into early childhood education provides students with the opportunity to explore their interests and develop a well-rounded knowledge base that will set them up for success later in life.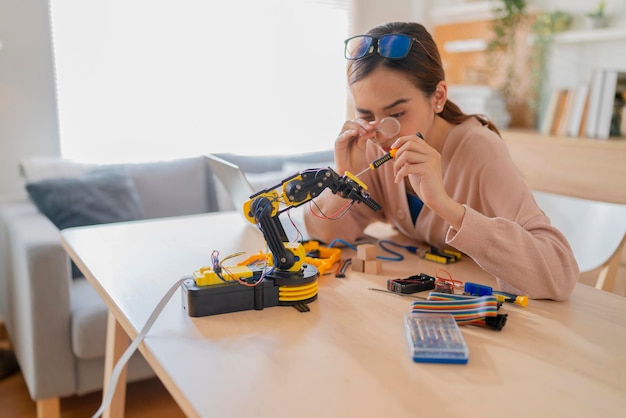 The Benefits of STEAM
STEAM stands for Science, Technology, Engineering, Art, and Mathematics. This is an educational program that fosters creativity and problem-solving skills among young children.
Early childhood education provides an incredibly powerful learning experience when these five disciplines are combined. Although each of these five disciplines has its own benefits, when combined they offer even greater benefits.
STEAM activities foster critical thinking and exploration, which is essential for young minds to grow. It encourages children to find creative solutions to problems and take risks. Through exploration and experimentation, children are able to learn about the world around them and how different elements interact with each other.
It also helps children understand basic concepts in science, technology, engineering, arts, and math in a more hands-on way, making it more engaging and fun for them.
STEAM activities can also help strengthen social skills in children. Collaboration and communication are essential for success in related projects and activities. Working together in groups encourages children to cooperate and learn from each other. They develop strong teamwork skills, as well as respect for each other's ideas and opinions.
Finally, STEAM activities offer children the opportunity to develop their own interests in science, technology, engineering, arts, and math. As they explore different topics through hands-on activities, they may find a passion that they would like to pursue further. This can help spark their imaginations and give them a sense of purpose in life.
How to Implement STEAM in the Classroom
STEAM (Science, Technology, Engineering, Arts, and Math) is an essential component of any early childhood education program. Implementing STEAM activities into your classroom can help provide children with hands-on learning experiences that promote problem-solving, creativity, and critical thinking skills. Here are a few tips on how to effectively implement STEAM activities in the classroom:
Develop clear objectives
When planning out STEAM activities for your classroom, make sure to develop clear objectives for what you want the children to learn from the activity. This will help you identify the materials and resources needed and determine how best to evaluate their understanding.
Make it relevant
Make sure to make the activity relevant to the children by connecting it to topics they have already learned or that they find interesting. If children can relate to the activity, they will be more engaged and motivated to participate.
Create a supportive environment
Make sure to create an environment where children feel comfortable asking questions, making mistakes, and trying new things. Having a supportive environment will encourage exploration and innovation.
Encourage collaboration
Encouraging collaboration among students is a great way to get them thinking critically and working together. If possible, have students work in small groups or teams to complete the activity.
Allow for experimentation
When implementing STEAM activities, allow for some trial and error. This will help children develop resilience and learn from their mistakes.
By implementing these tips, you can ensure that your STEAM activities are effective and engaging for your students. With meaningful activities, you can provide an interactive learning experience that helps children build foundational skills in science, technology, engineering, art, and math.
Resources for STEAM Activities
The best way to help students understand the concepts of STEAM is to provide them with engaging activities that are fun and challenging. There are plenty of great resources available to educators and parents looking for STEAM activities that can be used in early childhood classrooms. Here are a few of the most popular options:
The PBS Kids website has a number of fun and educational STEAM activities that can be used in the classroom. They have games, videos, and experiments that focus on science, technology, engineering, art, and math.
Khan Academy offers a wealth of resources for children who are interested in learning more about STEAM topics. Their online courses can help students build the skills needed to succeed in the fields of science, technology, engineering, art, and math.
Makey Makey is a user-friendly tool that allows kids to create their own inventions using everyday items. It encourages creativity and exploration of STEAM concepts.
LittleBits is an electronic building blocks set that lets kids explore the concepts of circuits and coding. They also have a library full of lessons and activities that teachers can use in the classroom to reinforce STEAM learning.
Engineering is Elementary is a curriculum developed by the Museum of Science in Boston that teaches kids the basics of engineering through hands-on projects. It's a great way to introduce children to the field of engineering and help them develop critical thinking skills.
These are just a few of the many great resources available to help teachers introduce STEAM concepts to their early learners. With these resources, educators can easily create engaging and exciting activities that will help their students learn the fundamentals of STEAM and gain an appreciation for its importance in the modern world.
Sampoerna Academy offers early childhood education that embraces STEAM. We understand the importance of STEAM and provide a comprehensive curriculum designed to help young children grow and learn. Our classes are designed to foster creativity, problem-solving, and critical thinking in an environment that is both safe and stimulating.
Our teachers are highly qualified and dedicated to the success of each student. Our STEAM curriculum encourages exploration and collaboration, inspiring young minds and promoting their growth. We use hands-on activities and projects to bring the concepts of science, technology, engineering, arts, and math alive in the classroom.
We invite you to join Sampoerna Academy and discover the benefits of our STEAM-based curriculum. Our classes are designed to nurture young minds and create a strong foundation for future learning. With our supportive teachers and hands-on approach, we make STEAM learning exciting and engaging for all students.
Ready to get started? Visit our website today to learn more about our curriculum and enroll in our classes. We look forward to having you join our growing community of learners!
For further information regarding registration, curriculum, visits, and information about Sampoerna Academy, please fill in the data below.
[formidable id=7]