During the school holidays, your children will have a much-needed respite from their studies. But, this break shouldn't mean a hiatus from growth and exploration. To keep your preschoolers engaged and provide opportunities for quality bonding time, consider these entertaining and educational activities to do together.
School holidays are a perfect opportunity for families to come together, have fun, and create lasting memories. With so many options for activities, it can be hard to decide what to do.
Here are five ideas for family bonding during the school holidays.
1. Explore the Wonder Science at Home
Education doesn't have to be limited to the classroom. In fact, you can bring the excitement of science right into your kitchen with DIY experiments!
One of the example STEAM Projects that we can create at home is "Jovanka – Baking Soda Rockets." This project combines science and creativity as students learn about chemical reactions by building their own rockets using baking soda and vinegar.
The goal of the project is to explore the principles of chemical reactions and understand how they can be harnessed to create a fun and visually stunning activity. By participating in the "Baking Soda Rockets" project, students have the opportunity to get hands-on with science and develop their problem-solving skills.
It's a fun and educational experience that encourages students to embrace their curiosity and love for learning even at home.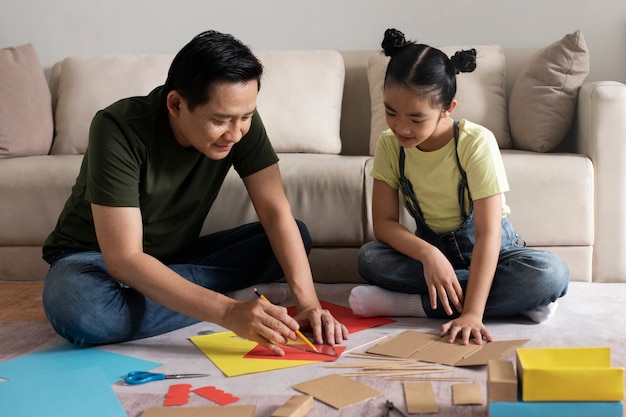 2. Get Creative With Arts & Crafts
Unleash your child's creativity with arts and crafts during the school holidays. Arts and crafts play a crucial role in your child's growth and development. Sampoerna Academy provides a platform for your child to express themselves and develop a sense of independence and ownership as they create something all by themselves.
This experience can help boost your child's self-esteem, encourage their imagination, and foster their artistic skills. Additionally, arts and crafts can be a fun and engaging way for you and your child to bond and create cherished memories together.
For the example Sampoerna Academy Medan G11 has introduced a unique project for its students, "Oregametry." This project combines mathematics and art as students learn about geometry by creating beautiful patterns and designs using Origami paper folding.
By participating in the Oregametry project, students have the opportunity to develop their mathematical skills and gain a deeper understanding of geometry concepts such as symmetry and tessellation.
This project also encourages students to be creative and to think outside the box as they explore different paper folding techniques and designs. It's a fun and educational way to bring a fresh and interactive approach to learning geometry.
3. Experience and Immerse in the Beauty of Culture, Arts, and History
The cultural heritage and legacy of our society are integral parts of our lives and can provide a wealth of knowledge and enriching experiences. Introducing your children to different cultures, arts, and historical events can broaden their perspectives and encourage an appreciation for history and diversity.
Local museums are a fantastic starting point, offering a variety of programs specifically designed for families with young children.
For example, the National Museum offers activities such as storytelling sessions, hands-on workshops, artifact hunts, and more, providing an interactive and engaging way for children to learn and explore.
This is an excellent opportunity to build your child's cultural life and create long-lasting memories.
4. Explore STEAM Project at Home
Exploring a STEAM project at home with your parents during the holidays is a fun and educational activity that can bond families and inspire a lifelong love of learning. By working together on projects that combine science, technology, engineering, arts, and mathematics, families can foster critical thinking skills and creativity while having fun and creating memories that will last a lifetime.
For example, Sampoerna Academy Lavenue G8 students Lora Aimee and Concetta Lingga have undertaken a remarkable project in biogas. They have explored the science of biogas and its potential as a source of clean energy. Biogas is produced from the decomposition of organic waste and can be used as a substitute for fossil fuels, reducing the carbon footprint.
The project involved researching and constructing a small-scale biogas generator, giving students the opportunity to gain hands-on experience in the application of scientific concepts. Lora Aimee and Concetta Lingga's work highlights the importance of exploring alternative sources of energy and the role of students in finding sustainable solutions to global problems.
5. Cooking Up a Storm in The Kitchen
Cooking is a wonderful way to bond with your kids during the school holidays and impart valuable life skills at the same time. From counting ingredients and following recipes, to learning about nutrition and developing an appreciation for different foods, cooking is a multifaceted activity that provides a wealth of educational opportunities.
By involving your children in the process of making a delicious meal, you not only create special moments to share together, but also lay the foundation for essential life skills that will serve them well for years to come.
In conclusion, the school holidays are a great opportunity for families to come together and create meaningful memories. From science experiments, arts and crafts, cooking and cultural exploration, there are many fun and educational activities to try.
Join Sampoerna Academy and provide your child with an exceptional educational experience. With a focus on STEAM (Science, Technology, Engineering, Arts, and Mathematics) education, our programs will help your child develop a passion for learning and grow their skills in a fun and engaging environment.
Sign up now and give your child the opportunity to thrive and reach their full potential. Let's start their journey together at Sampoerna Academy!
Related articles: